Welcome to Dutch Rewards!
The Dutch Bros™ app is here to hook you up with Dutch Rewards and awesome new features. Download the app and start earning points today!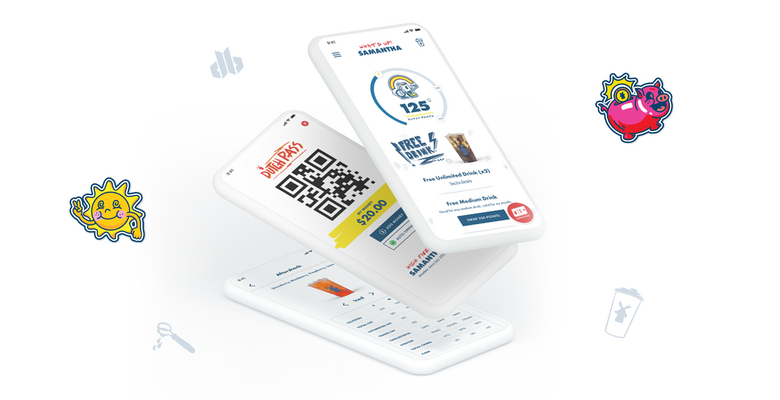 Earn Points. Get Drinks.
Turn points into free drinks, and get rewarded for when you Dutch. Enjoy 125 Bonus Points for registering (halfway to your first free drink!)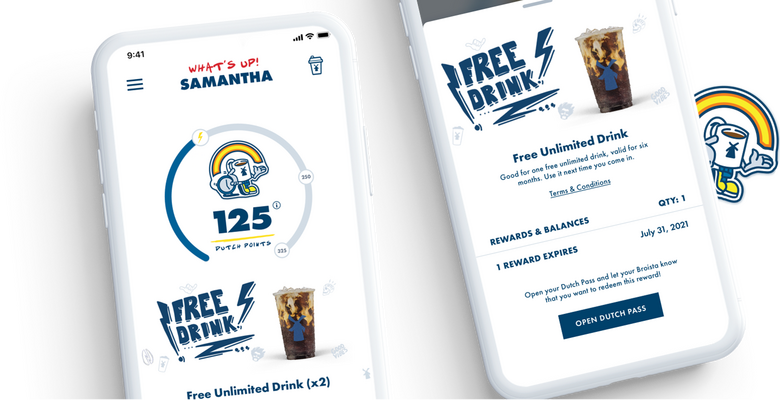 Contactless Payment
Browse the menu to order your faves completely contact free!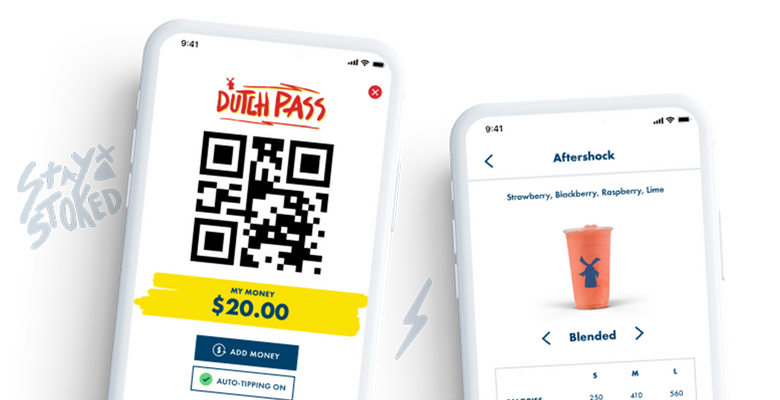 Show your style
Show off your rad style with all the stickers you've earned, and add them to your app!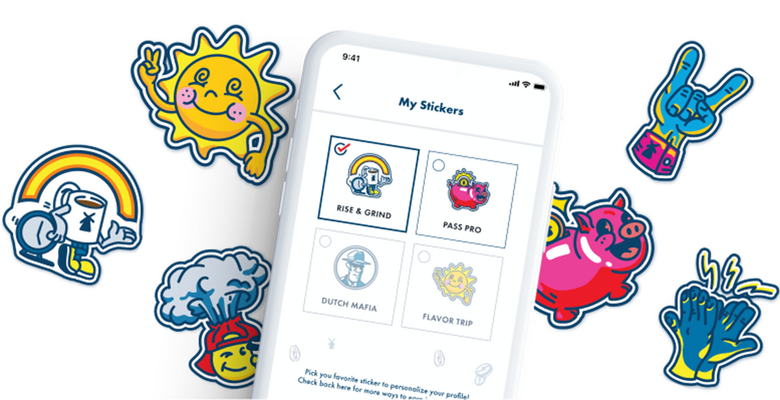 Want to learn more?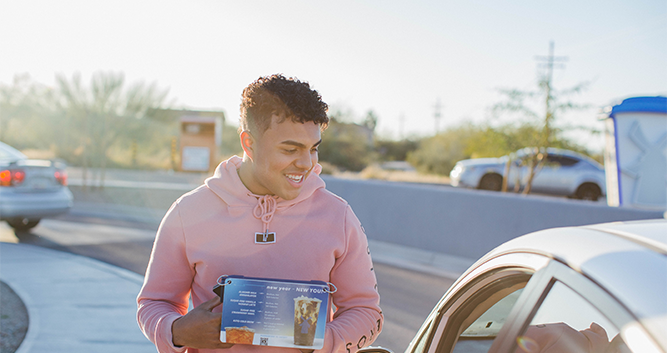 Dutch Rewards FAQs
How do I earn points?
It's easy! Earn 5 points for each dollar you spend at a shop, and there's no limit to how many you can earn!
How old do you have to be to download the app?
You must be 13 years or older to use this app.
Can I still get points if I forgot my phone?
We hate when that happens! If you ever forget your phone, just give your broista your phone number, and you'll earn the points. Unfortunately, we won't be able to issue points for past purchases.
Can I redeem my rewards to buy your coffee online?
Rewards are redeemable for drinks or food items only, and those are served up at our shops, so we'll see you there!
Can I earn points buying gift cards?
Points can only be earned on purchases at our shops. Points can't be earned on gift cards, online purchases, taxes, tips or charity donations.
Do I earn points if I'm buying my drink with a gift card?
Yes! Even more reason to use those gift cards.
Will I be notified if points or rewards are expiring?
Yep! We'll give you a heads-up in your app notifications if you're in danger of losing any points or rewards. Check in often, though, so you don't miss out!
Do rewards expire?
Rewards do expire within a certain time frame depending upon the reward. We'll give you a heads up through the app if that's the case, so just be sure to check in often.
Do points expire?
Points can expire, but only if there hasn't been any activity in your account for at least one year. For details, check out the full terms and conditions: https://dutchbros.com/terms-of-service
What's the difference between points and rewards?
Points add up when you make purchases at our shops, and when you reach a certain number of points, we'll pass along our thanks with a reward, which is usually a free drink!
Can I transfer my stamps to my point balance on the app?
Afraid not! As of March 31, 2021 we are no longer accepting stamp cards.
Are you still accepting stamp cards?
As of March 31, 2021 we are no longer accepting stamp cards.
How do I pay through the app?
All you need to do is load up your Dutch Pass™ with any balances from Dutch Bros™ gift cards, or add money directly from your credit or debit card. Then, present your pass to your broista — once they scan, you're good to go!
Why can't I order a drink through the app?
Unfortunately, our app does not have that feature. We're working on it, though! We're always happy to take your order or help you find your drink in person!
How do I register without downloading the app?
There's not a way to register without the app yet, but this feature is coming soon! Stay tuned, fam!
How many points do I need for a reward?
It depends on the reward you want! A medium drink is free with 250 points, and any other drink uses 325 points.
How do I download the app?
Go to your app store of choice - App Store (iOS/Apple) or the Google Play Store, search for Dutch Bros and select Dutch BrosⓇ.
Why can't I download the app?
Most likely your device isn't compatible with the Dutch Bros app. We are working on a feature for customers to sign up online. Stay tuned!
What do I get when I download the Dutch Bros app?
When you create your account, you get 125 bonus points - halfway to your first free drink!
Why am I not getting the same promotions as other customers?
Just like we customize your drink, we customize your Dutch Bros app experience! No worries- our app is going to be offering lots of rad in-app promotions for you to earn points and score rewards!
My birthday is coming up, why isn't it showing up on my app?
Happy early birthday friend! Your birthday drink will pop up on your app on the day of your birthday. We're so stoked to celebrate with you!
How do I redeem my birthday drink on the app?
Scan your Dutch Pass (on your Dutch Bros app) and let your broista know you want to redeem your birthday drink!
Can I just show my ID for a free birthday drink?
Our birthday drinks are now part of the rewards on our app! Download the app to get the free drink- we can't wait to celebrate with you!
Why do I need the app for my birthday drink?
The app is the best way to get all sorts of rewards- including the birthday and half birthday drinks! It's best to sign up for that if you can. If not, just talk to your broista!
Why don't I get my first drink free? / Why do I need the app?
We hear you- it's a change, but we think it's worth it! The Dutch Bros app is definitely the place to get hooked up. We have so many good deals there, we want all our customers to be able to take advantage of it!
I still have questions about the app!
I'm missing points from my last visit, how do I get them?
We're sorry to hear that you didn't get points for your last visit! Feel free to shoot us an email at feedback@dutchbros.com and we will be happy to get this straightened out for you!